Virginia's Execution History
Virginia has a long and dark history with the death penalty. The first execution in the New World took place in Virginia in 1608 when Captain George Kendall was executed in Jamestown for spying. Throughout its history as a colony and a state, Virginia has executed more than 1,300 people, the most of any other state. Virginia has also executed more women and the youngest children of any state.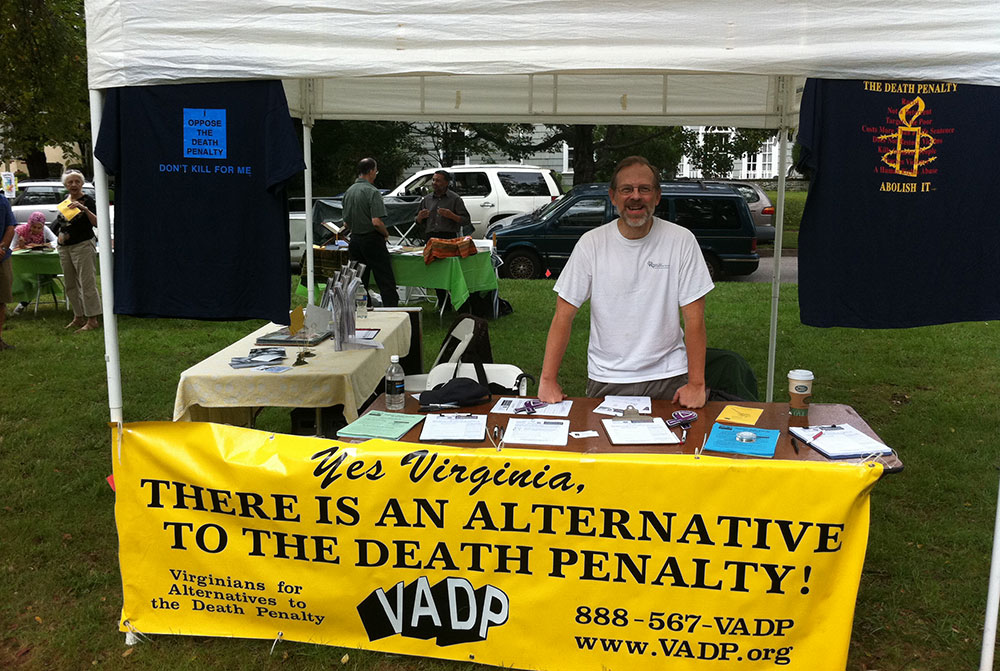 Since the resumption of capital punishment in the late 1970s following a de facto moratorium imposed by the courts, Virginia has executed 111 people, behind only Texas and Oklahoma during that time. The average time between conviction and execution in Virginia is less than eight years, by far the shortest in the nation.
Since the 1970s, 155 persons convicted and sentenced to death in the United States have been released from death row with evidence of their innocence, spending an average of 10 years on death row. Many of these victims of a faulty justice system would have been executed before evidence of their innocence came to light if they had been convicted in Virginia.
Virginia has executed 111 people since reinstatement of the death penalty in 1976.
Executions Since 1976
Date Killed
Prisoner
Race
Victims' Race/Sex
Victims' Name(s)
Aug. 10, 1982
Frank Coppola
W
W/F
Muriel Hatchell
Oct. 12, 1984
Linwood Briley
B
W/M
John Gallaher
Apr. 18, 1985
James Briley
B
B/F
B/M
Judy Barton
Harvey Barton
June 25, 1985
Morris Mason
B
W/F
Muriel Hand
Aug. 31, 1986
Michael Smith
B
W/F
Audrey Weiler
July 6, 1987
Richard Whitley
W
W/F
Phoebe Parsons
Apr. 14, 1988
Earl Clanton
B
B/F
Wilhelmina Smith
Aug. 30, 1989
Alton Waye
B
W/F
Laverne Marshall
July 19, 1990
Richard Boggs
W
W/F
Treeby Shaw
Oct. 17, 1990
Wilbert Evans
B
B/M
William Truesdale
Dec. 13, 1990
Buddy Justus
W
W/F
Ida Mae Moses
July 24, 1991
Albert Clozza
W
W/F
Patricia Bolton
Aug. 22, 1991
Derick Peterson
B
W/M
Howard Kauffman
May 20, 1992
Roger Coleman
W
W/F
Wanda McCoy
July 23, 1992
Edward Fitzgerald
W
W/F
Patricia Cubbage
Sept. 15, 1992
Willie Jones
B
B/M
B/F
Graham Adkins
Myra Adkins
Dec. 10, 1992
Timothy Bunch
W
A/F
Su Cha Thomas
Jan. 19, 1993
Charles Stamper
B
B/F
2-B/M
Agnes Hicks
Franklin Cooley
Stephen Staples
Mar. 18, 1993
Syvasky Poyner
B
W/F
W/F
W/F
W/F
W/F
Joyce Baldwin
Louise Paulett
Vicki Ripple
Chestine Brooks
Carolyn Hedrick
June 17, 1993
Andrew Chabrol
W
W/F
Lisa Herrington
Sept. 14, 1993
Joe Wise
B
W/M
William Ricketson
Dec. 16, 1993
David Pruett
W
W/F
W/F
Wilma Harvey
Debra McInnis
Mar. 3, 1994
Johnny Watkins
B
W/F
W/M
Betty Barker
Carl Buchanan
Apr. 27, 1994
Timothy Spencer
B
W/F
W/F
W/F
W/F
Susan Tucker
Debbie Davis
Susan Hellams
Diane Cho
Jan. 24, 1995
Dana Edmonds
B
W/M
John Elliott
May 25, 1995
Willie Turner
B
W/M
Jack Smith
Sept. 27, 1995
Dennis Stockton
W
W/M
Kenneth Arnder
Oct. 19, 1995
Mickey Davidson
W
W/F
W/F
W/F
Doris Davidson
Mamie Clatterbuck
Tammy Clatterbuck
Nov. 13, 1995
Herman Barnes
B
W/M
W/M
Clyde Jenkins
Mohammed Afifi
Jan. 4, 1996
Walter Correll
W
W/M
Charles Bousman
Jan. 23,1996
Richard Townes
B
W/F
Virginia Goebel
July 17, 1996
Joseph Savino
W
W/M
Thos McWaters
Nov. 21, 1996
Ronald Bennett
B
W/F
Anne Keller Vaden
Dec. 3, 1996
Gregory Beaver
W
W/M
Leo Whitt
Dec. 10, 1996
Larry Stout
B
W/F
Jacqueline Kooshian
Dec. 12, 1996
Lem Tuggle
W
W/F
Jessie Havens
Dec. 16, 1996
Ronald Hoke
W
W/F
Virginia Stell
Feb. 6, 1997
Michael George
W
W/M
Alexander Sztanko
Feb. 26, 1997
Coleman Gray
B
W/M
Richard McClelland
July 17, 1997
Roy Bruce Smith
W
W/M
Sgt. John Conner
July 23, 1997
Joseph O'Dell
W
W/F
Helen Schartner
Aug.19, 1997
Carlton Pope
B
W/F
Cynthia Gray
Sept. 17, 1997
Mario Murphy
F*
W/M
James Radcliff
Nov. 13, 1997
Dawud Mu'Min
B
W/F
Gladys Nopwasky
Dec. 9, 1997
Michael Satcher
B
W/F
Anne Elizabeth Borghesani
Dec. 11, 1997
Thomas Beavers
W
B/F
Marguerite Lowery
Feb. 10, 1998
Tony Mackall
B
W/F
Mary Elizabeth Dahn
Mar. 18, 1998
Douglas Buchanan, Jr.
W
W/M
W/M
W/M
W/F
Douglas Buchanan Sr.
Donald Patterson
Joel Jerry Patterson
Geraldine Patterson Buchanan
Mar. 25, 1998
Ronald Watkins
B
W/M
William McCauley
Apr. 14, 1998
Angel Breard
F**
W/F
Ruth Dickie
June 18, 1998
Dennis Eaton
W
W/M
Jerry Hines
July 23, 1998
Danny King
W
W/F
Carolyn Rogers
Aug. 20, 1998
Lance Chandler
B
W/M
William Dix
Aug. 31, 1998
Johnile DuBois
B
W/M
Philip Council
Sept. 23, 1998
Kenneth Stewart, Jr.
W
W/F
W/M
Cynthia Stewart
Jonathan Stewart
Oct. 14, 1998
Dwayne Wright
B
B/F
Saba Tekle
Oct. 21, 1998
Ronald Fitzgerald
B
B/M
B/M
Coy White
Hugh Morrison
Nov. 17, 1998
Kenneth Wilson
B
B/F
Jacqueline Stephens
Dec. 3, 1998
Kevin Cardwell
B
B/M
Anthony Brown
Jan. 20, 1999
Mark Sheppard
B
W/M
W/F
Richard Rosenbluth
Rebecca Rosenbluth
Feb. 4, 1999
Tony Fry
W
W/M
Leland Jacobs
March 9, 1999
George Quesinberry
W
W/M
Thomas Haynes
March 25, 1999
David Lee Fisher
W
W/M
David Wilkey
April 13, 1999
Carl Chichester
B
W/M
Timothy Rigney
April 20, 1999
Arthur Jenkins
W
W/M
W/M
Floyd Jenkins
Lee Brinklow
April 28, 1999
Eric Payne
W
W/F
B/F
Sally Fazio
Ruth Parham
April 29, 1999
Ronald Yeatts
B
F
Ruby Dodson
July 21, 1999
Thomas Strickler
W
B/F
Leann Whitlock
Aug. 17, 1999
Marlon Williams
B
W/F
Helen Bedsole
Sept. 16, 1999
Everett Mueller
W
W/F
Charity Powers
Oct. 19, 1999
Jason Joseph
B
Jeffrey Anderson
Nov. 9, 1999
Thomas Royal, Jr.
B
Kenny Wallace
Dec. 9, 1999
Andre Graham
B
W/F
Sheryl Stack
Jan. 10, 2000
Douglas Thomas
W
W/F
W/M
Kathy Wiseman
James Wiseman
Jan. 13, 2000
Steve Roach
W
W/F
Mary Ann Hughes
March 16,2000
Lonnie Weeks, Jr.
B
H/M
Jose Cavazos
July 6, 2000
Michael Clagett
W
W/M
W/F
F~M
F~1 M
Wendel Parrish
Karen Rounds
Lam Van Son
Abdelaziz Gren
August 30, 2000
Russel Burket
W
2W/F
Katherine Tafelski
Ashley Tafelski
Sept. 14, 2000
Derek Barnabei
W
W/F
Sarah Wisnosky
Oct. 10, 2000
Bobby Ramdass
B
F~2 M
Mohammad Kayani
Dec. 6, 2000
Christopher Goins
B
3B/M, 2B/F
James Randolf, Jr.,Daphne Jones,
Nicole Jones,David Jones, Robert Jones
March 1, 2001
Thomas Akers
W
W/M
Wesley Smith
October 18, 2001
Christoher Beck
W
2W/M 1W/F
Florence Marks, William Miller, David Kaplan
March 14, 2002
James Earl Patterson
W
W/F
Joyce Aldridge
April 2, 2002
Daniel Lee Zirkle
W
2WF
Jessica Shifflett, Christina Zirkle
June 12, 2002
Walter Mickens, Jr.
B
W/M
Timothy Hall
November 14, 2002
Aimal Kahn Kasi
F~2
2W/M
Frank Darling, Lansing Bennett
April 9, 2003
Earl Bramblett
W
1W/M, 3W/F
Blaine Hodges, Teresa Hodges, Winter Hodges, Anah Hodges
July 22, 2003
Bobby Swisher
W
1W/F
Dawn McNees Snyder
March 18, 2004
Brian Lee Cherrix
W
W/F
Tessa Van Hart
March 31, 2004
Dennis Orbe
W
W/M
Richard Sterling Burnett
July 22, 2004
Mark Bailey
W/F
W/M
Katherine Bailey
Nathan Bailey
August 18, 2004
James Hudson
W
W/M
W/M
W/F
Walter Stanley Cole
Thomas Wesley Cole
Patsy Ayers Cole
September 9, 2004
James Reid
B
B/F
Annie V Lester
April 27, 2006
Dexter Lee Vinson
B
W/F
Angela Felton
June 20, 2006
Brandon Hedrick
W
B/F
Lisa Crider
July 27, 2006
Michael Lenz
W
W/M
Brent Parker
Nov. 9, 2006
John Yancey Schmitt
W
B/M
Earl Shelton Dunning
May 27, 2008
Kevin Green
B
W/F
Patricia Vaughan
June 25, 2008
Robert Yarbrough
B
W/M
Cyril Hamby
July 10, 2008
Kent Jackson
B
W/F
Beulah Kaiser
July 24, 2008
Christopher Scott Emmett
W
W/M
John Langley
Feb. 19, 2009
Edward Nathaniel Bell
B
W/M
Ricky Timbrook
Nov. 11, 2009
John Allen Muhammad
B
M
M
M
F
F
M
M
M
F
James Martin
James Buchanan
Premkumar Walekar
Sarah Ramos
Lori Lewis-Rivera
Pascal Charlot
Dean Meyers
Kenneth Bridges
Linda Franklin
Nov. 17, 2009
Larry Bill Elliott (electrocuted)
W
W/F
W/M
Dana Thrall
Robert Finch
March 18, 2010
Paul Warner Powell (electrocuted)
W
W/F
Stacie Reed
May 20, 2010
Darik Walker
B
B/M
B/M
Clarence Elwood
Stanley Beale
Sept. 24, 2010
Teresa Lewis
W
W/M
W/M
Julian Lewis
Charles Lewis
Aug. 18, 2011
Jerry Terrell Jackson
B
W/F
Ruth Phillips
Jan. 16, 2013
Robert C. Gleason
W
M
M
Harvey Watson
Aaron Cooper
Oct. 1, 2015
Alfredo R. Prieto
H
WF
WM
Rachael Raver
Warren Fulton III
Jan. 18, 2017
Ricky Javon Gray
B
W/M
W/F
W/F
W/F
Bryan Harvey
Kathryn Harvey
Stella Harvey
Ruby Harvey
July 6, 2017
William Morva
W
B/M
W/M
Derrick McFarland
Eric Sutphin
(Race: w=white; b=Afro-American; a=asian; h=hispanic. Sex:m=male; f=female)
*Foreign – Mexican national
**Foreign – Paraguayan national
~ Foreign- Vietnamese national
~1 Foreign- Moroccan national
~2 Foreign- Pakistani national
Condemned Prisoners who Committed Suicide on the Row
| Date of Death | Prisoner | Race | Victims' Race/Sex | Victims' Name |
| --- | --- | --- | --- | --- |
| Dec. 6, 1983 | Manual Quintana Camego | H | H/F | Ophelia Quintero |
| Apr. 7, l987 | John Levasseur | A | W/F | Pamela Benner |
| June 13, 1993 | Wayne DeLong | W | B/M | George Taylor |
| Mar. 1, 2001 | David Overton | W | W/M | Edgar Williams |
| February 23, 2004 | Jeffery Remington | W | M | Brent Parker |
Died While Incarcerated on Death Row
| Date of Death | Prisoner | Race | Victims' Race/Sex | Victims' Name |
| --- | --- | --- | --- | --- |
| Oct. 28, 1993 | Delasandro Barber | B | W/M | Williams Geddes |
| Dec. 28 2001 | Enrico Alaia | | | Todd Taylor/ Terry Garner |