Death Penalty Repeal Possible: VADP 2019 Annual Report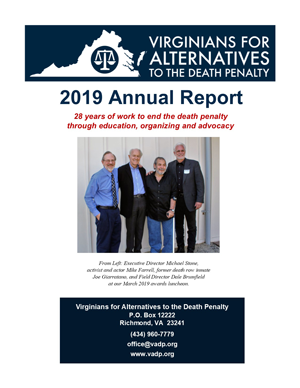 By Paul O'Shea, VADP Vice-President
Virginians for Alternatives to the Death Penalty (VADP) has released its 2019 annual report.
The group's Executive Director, Michael Stone said: "This past year was a challenging one for VADP, and set the stage for a 2020 rich with the prospect of great progress toward death penalty repeal. Several nationally recognized speakers such as Mike Farrell, Renny Cushing and Shane Claiborne addressed our events. Our grassroots educational program reached large numbers of Virginians and attracted over five hundred new supporters for our work."
Kristina Leslie, VADP President said: "Public opinion is changing. For the first time in more than three decades, a majority of Americans say that life in prison is a better approach for punishing murder than execution."
Field Director Dale Brumfield addressed 27 groups across the state during the year. He met with hundreds of key local individuals from political, social justice, faith communities and criminal justice reform organizations.
He discussed how executions fail to deter crime, the probability that an innocent person has been executed, and the enormous costs of capital judicial cases. "More people sense that the death penalty is an outmoded relic of a previous century and it is time to end it," Brumfield said.
One of the highlights of the year was the news conference convened by VADP where a letter calling for death penalty abolition in Virginia was endorsed by thirteen murder victim family.
Speaking at the press conference was Rachel Sutphin, daughter of Montgomery County Deputy Eric Sutphin, who was killed during a manhunt in 2006. Sutphin appealed in vain to spare the life of her father's killer who was executed in 2017 by the Commonwealth. The press event received nationwide attention.
The organization held two awards luncheons during the year, the first delayed because of a conflict. In May its keynote speaker was social activist Mike Farrell, founder and president of Death Penalty Focus. He told the audience: "As we spend millions of dollars every year justifying our chambers of death here at home, schools go without books, children go hungry and human beings live in misery — misery that creates the very behaviors for which state killing pretends to be the remedy."
Former death row inmate Joe Giarranto received the Lifetime Achievement Award for his 38 years of legal advocacy on behalf of other inmates.
The fall event headlined Renny Cushing, New Hampshire state legislator, leading the charge in that state to become the 21st to end state-sponsored killing. The founder of Murder Victim Families for Human Rights, he is the son of a murder victim and the brother-in-law of a second murder victim.
At the fall event Virginia State Senator Barbara Favola was honored with the organization's Legislator of the Year award for her work on legislation to exempt people with severe mental illness from capital punishment.