VADP 2019 Awards Luncheon
VADP 2019 Awards Luncheon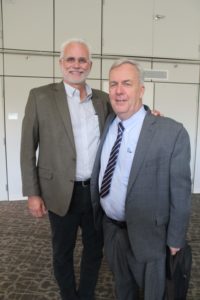 Fifty VADP supporters gathered on Saturday, October 5, 2019 at United Christian Parish in Reston. Keynote speaker Renny Cushing (pictured at right with Field Director Dale Brumfield) shared lessons from the successful New Hampshire death penalty abolition campaign as well as the importance of murder victim family members to the abolition movement.
We also honored Tom Petersik with our Betty Gallagher Citizen Advocate of the Year award and Sen. Barbara Favola with our Legislator of the Year award.
Here is a link to a Facebook photo album with many images from the luncheon:
https://www.facebook.com/pg/vadp.org/photos/?tab=album&album_id=3134081693303055
You don't need a Facebook profile to view the images or to download them for personal use. Many thanks to all of our supporters who came to the luncheon!